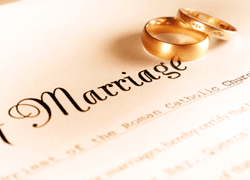 If you are planning on getting married in Isaan then speak to one of our lawyers with regards to the marriage registration, drafting a prenuptial agreement and buying property in Isaan. Many expats retire to Isaan and we are here to help you settle into your retirement. There are no embassies in Isaan and it can be difficult obtaining legal help as English is not spoken.
Most expats who decide to settle in Issan before they get married tend to visit our offices in Bangkok, Phuket or Pattaya first. What we do is try to arrange not only their retirement visa but also the marriage registration in Bangkok before they leave for Issan. This makes the process much easier as we can complete the marriage registration paperwork in Bangkok for you and register it after you have married without the need for you to return to Bangkok again.
When you get married in Thailand the Thai government needs to know that you are single and that you are able to get married. In order to do this you need to go to your embassy and apply for a letter of affirmation. This letter states that you are single and are able to marry a Thai citizen. If you are divorced the embassy would want a copy of your divorce decree before they issue the letter. This letter usually takes 24 hours to obtain so visiting the embassy on a Friday is not a good idea for this letter as you would have to wait until Monday for it.
Once you have this letter from your embassy you need to have the letter verified by the Thai Department of Foreign Affairs. This usually takes a few hours and depending on what time you do arrive you would have to sit there for the day waiting for it to be verified. What they do is to confirm that the letter has been issued by the embassy. They then stamp the letter stating that it has been verified and you now need to take this letter to the local district office.
At the local district office or Amphur's Office as the Thais' call it you will hand in all the documents and they will then require you to fill in another form and to wait for the marriage certificate to be issued. This usually takes about an hour. Speak to a lawyer in Isaan so you dont need to travel to Bangkok and allow the Isaan lawyer to obtain your marriage registration for you in Thailand.
Most foreigners do not want to waste that much time with running around so many of them simply drop off their paperwork at any of our offices in Thailand and we will ensure that the rest is done. Drop off your paperwork at any of our offices in Bangkok, Pattaya, Phuket, Samui, Chiang Mai, Phuket or Hua Hin for attention. Speak to one of our lawyers about a prenuptial and any other questions you might have with regards to property or immigration.
Call us today!